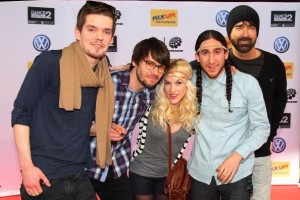 I go through stages in my life of listening to music, and then not lot listening to any music at all.
I don't own any CDs, and my iTunes, which I rarely open, has 160 songs.
I guess you can say I've been reading a lot – or more specifically, listening to a lot of audiobooks.
One day I stumbled upon a band called Walk off the Earth.  For some reason I fell in love and I played this song and this song over and over again.  I was hooked.
I really liked the musical talent of these guys, their diverse videos, and how they talk about the success of their viral video in this interview.
I just got back from seeing them live (they're currently on tour), and now I'm writing this.
I get happy and inspired when I see others on their path, doing something they love, and having success.
Here are 4 things you can learn from Walk off the Earth:
Passion
If you're not doing something that you're passionate about, why are you doing it?  Is this a strategy for long-term success, or are you just setting yourself up for a miserable life?  This group (especially Gianni, the guy with long hair) just ooze passion when they play.  You can hear it in their voice, and you can see it in the way they move.  They really love making music.
Hustle
Their video of "Somebody That I Used to Know" went viral on youtube and is currently clocking around 130,000,000 views (as of July, 2012).  Many people thought they were just an "overnight success", but what people failed to realize is that these guys have been putting out great music and great videos for the past 4 years, and each of the members have been playing music for over a decade.
They didn't expect the song to take off the way it did – but they said they were ready when it happened.  They've been putting in the work for years, and it paid off.
Whatever It Takes
I've mentioned the benefit of getting part time work as an entrepreneur in this video.  All of the members were working part time (or full time) jobs all while they were producing music and shooting videos.  They knew they had expenses to pay, but they stuck with their passion.  Marshall even sold toilets for a while.  I hope they've been able to step into making music full time :)
Collaboration
All of the members vibe well together and help push and inspire each other to do and become more.  Surrounding yourself with people who understand you and encourage you to reach for your dreams is powerful.
Takeaway
Get part time work (or consulting), but do what you love and follow your passions.   Stick with it.  Put in the work.  Don't quit.
Bonus
If you like the "Somebody That I Used to Know" 5-man guitar video, you might get a good laugh at this video ;)