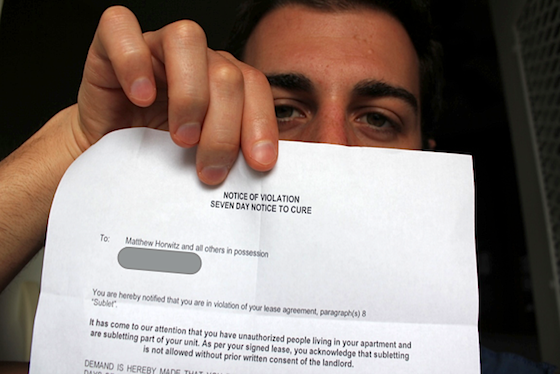 Man, what a morning…
In the span of 10 minutes, I lost an $800-$1,000/month income stream and I got a letter threatening me with a lawsuit.
Oh, and some other lovely stuff too (see below)…
I received 2 (legally threatening) "It has come to our attention" letters in the same day.
Everything shifted in the matter of 10 minutes…
When Life Throws You Lemons, What Do You Do?
Here's the first letter… hand-delivered from my landlord today…
"It has come to our attention that you have unauthorized people living in your apartment and are subletting part of your unit.  As per your signed lease, you acknowledge that subletting is not allowed without prior written consent of the landlord.
Demand is hereby made that you remedy the non-compliance within seven (7) days of receipt of this notice or your lease shall be deemed terminated and you must vacate the premises."
Why does this suck?
Well because I've been renting out my extra bedroom on AirBnB.com, a website where you can rent your home, spare bedroom, extra couch, etc. to travelers.
Not only have I been meeting cool people from all over the world, but my rent, for the past few months, has pretty much been $0.  Some months, I've even turned a profit.
Now that's over and I have to pay rent all by myself!  
This is unusual for me.
I sell real estate (as a Realtor®) and invest in property as well, so I'm always looking for ways to generate "cashflow".
That just took away $800-$1,000/month in income and now I need to fill that source…
… which is a bummer, since I haven't had to look for part-time work (while I build my businesses) because of the creative lifestyle I have [offsetting expenses and building creative sources of income].
This is what I did when I lived in Philadelphia… I leased a 7-bedroom house near a University, and then I subletted all the remaining 6 bedrooms to undergraduate students, graduate students and young professionals.  I pretty much didn't pay rent for 3+ years.
Shortly after this letter arrived, I received an email with a scanned document which arrived at one of my Pennsylvania addresses…
"It has come to our attention that you are using an image (or images) represented by [company name] for online promotional and/or editorial purposes.  We have searched our records and have not been able to locate a valid license for the use of the image(s) under your company's name.  Attached is a copy of the image(s) in question along with the usage found on your company's website….
… Total Due Upon Receipt: $875.00″
Damn, this sucks!
In the Frequently Asked Questions of the letter, it says:
Q: What if I remove the images?  Could I simply consider the matter closed?
A: While we appreciate the removal of our represented images from your website, removal of the images alone does not settle the matter.  Since your company has already infringed the copyright by using the images without a valid license, our photographers are entitled to compensation for their work.  Therefore, [company name] will continue to pursue settlement of the demand.  We are seeking payment for the unlicensed use of the images, and would be happy to work with you on correctly licensing any future use.
Damn, this really sucks!
Since I build and teach people how to use websites, I get this question a lot: "Where should I get images from?"
(most people just use photos they don't have rights to)..
I tell people it's really up to their level of comfort (and how risky they want to be).
I've even told people, "I've never had any issues…"
I'm such an ass LOL!
I even told one of my assistants, "Just use any images you want, and then if something happens, I'll start buying the rights to photos."
Smart-ass me thought I wouldn't be effected.
Instead of just spending the $1-$3 per image, now I have to pay $875.00…
… I also have to go through multiple websites and not only remove images, but find (and pay for) their replacements.
More Lemons
Paying the Mortgage…
To further talk about "lemons", about an hour ago, I got a phone call from my property manager.
We've been trying to rent one of my 3-bedroom homes in Philadelphia.
The house has been sitting vacant since October 2012 (it's currently April 2013… that's 6 months of vacancy… and of me paying the mortgage!)
"Matt, I've showed this place over 30 times and we've only got two (poor) applications.  We need to go ahead and paint the unit.  I'll send my guy out there and get you a quote this week."
This will easily be $1,000+
Dental Work…
While I'm on the topic of venting about financial frustrations, I went to the dentist to get my teeth cleaned recently…
… turns out I have 6 cavities.  Six!
WTF ?!
Here I was thinking I was all healthy and that I've been taken care of my body (I don't drink soda, I don't eat candy and I stay away from poor-quality food), and it turns out I have 6 cavities.
Price: $900.  Damn!
Furthermore, I have a mesioden (extra tooth) in my upper gumline which I need to get surgically removed… that will most likely be expensive.
Taxes
And to top it all off, I have taxes which I must pay in the next 2 weeks.
What Have I Learned From All This?
No matter what happens, I can choose my reaction/response.
It's good to be honest and upfront when you're caught.  I owned up to the consequences.
I realized I need to start making more money and then saving it for unexpected expenses.
I've already cancelled the 8 reservations I had on AirBnB and I've dealt with the reality that I no longer can have that as an income source (at least not at this property).
I called the landlord and told them I will no longer be having travelers here.
I was honest when I spoke with them, I didn't beat around the bush… I told them, "Yes, I was making money and renting the room out."  I told them I understand their situation and the neighbor's situation (some suspicious neighbors reported me after seeing the frequency of guests with large suitcases coming and going), and that I'll take care of it.
I going to contact the "photo company" and see if I can negotiate the $875 pay-off.
I'm no longer just going to use images without purchasing the rights.
I'm going to start saving the money to get my cavities taken care of.
I feel that no matter what happens, life is here to teach us lessons and to help us grow.
When Life Throws You Lemons, What
Can

You Do?

1. Accept the reality (unless you can change it)

2. Learn as much as you can

3. Remedy the situation(s)

4. Move forward (don't dwell on how things were for too long)

5. Don't forget to bring the lessons learned with you ;)

Keep rockin', no matter what gets in your way!