For the past week I've been down.  
Couldn't get out of bed on time.  
Spent hours endlessly browsing youtube and facebook.  
I didn't feel motivated to do my work.  
I procrastinated with projects and with my taxes.  
I didn't submit a pitch to speak at an upcoming event.  
And a new online course I created didn't take off as I had expected it to.  Damn.
Ever felt down?
Ever just let your inbox and voicemail pile up?
Have you put off tackling large projects?
Ever not do something you told yourself you would?
I know how it feels. It feels like shit.
As I write this, I can say that I have made it out of the slump and I would like to share with you my observations…
First off, it's okay.
You are amazing and I congratulate you on living your life with purpose and having a desire to do something meaningful.
Don't get down on yourself for being down.
Just be with it, and then be okay with it happening.
I feel that we are misled – we are often misled by our friends, by what we see on TV and the internet, and also by ourselves.
It is perfectly normal to procrastinate.  It's totally cool to be lazy, and it's just fine to get depressed.
I would guess that most people have these feelings from time to time.  Yes, some more than others, but to pretend they don't exist is, well, bullshit.
Life is full of challenges.  Life can be hard.  Things can get tough.
But life can also be amazingly amazing!  It can be fun.  It can be adventurous… and it can be rewarding.
It's the ebb and flow.  It's the yin and yang.  It's the ups and downs.  It's the natural cycles of the universe.
I think the sooner we can accept the way things are, the sooner we can progress, get out of our slumps, and move forward.
After almost a week of feeling pretty low, I realized I was doing two things.
Thing #1 – Comparing Myself to Others
With the all the hours I spent browsing people's facebook statuses, looking at other people's photos, and watching a lot of youtube videos, I realized I was comparing myself to everyone.  I was constantly sizing myself up – and being in my "lower self", I usually didn't size up very well.
Ever found yourself browsing people's photos on facebook only to leave you thinking about how much your life stinks?
DON'T DO THAT!
People aren't posting photos of themselves unkempt, un-showered, and depressed, eating crappy food while they procrastinate on things they should be doing with their life.
Most people just posts their "highlights" – Don't you?
Due to societal conditioning and other such things, we are often taught that it is bad to show our "dark side", or are "low times"…. so we put on mask and pretend that life is just like some delicious ice cream, that always tastes good and never runs low.
That my friends is just not true.
Lesson: Don't compare yourself to others.  Realize that everyone is dealing with their own stuff and trying to figure life out as well.
What to do: Accept who you are.  Accept the ups and downs of life and don't get too high when you're up and don't get too low when you're down.  Don't get attached.  Just let it pass.
Affirmation: "Even though I (fill in the blank with the 'negative' thing), I completely love and accept myself."  Repeat this a few times throughout the day(s) and you will notice your feelings start to dissipate.
Thing #2 – Emotional Expectations of Things to Come
I've spent nearly a year and a half working on a new business.  I am still working on it.  (mini lesson: things take time).  I was, and I still am, constantly creating images of the way things will be and how awesome everything will turn out.
This can be good and it can be bad.
Good because I am a strong believer in visualizing a desired outcome and in getting excited and passionate about our work, but bad, because when things don't turn out the way we planned, we can get down.
Some people get so down, they quit.
DON'T QUIT!
Keep moving forward.  Keep making adjustments.  Keep progressing.
When sales didn't come in at the rate I expected them to, I was depressed.  But why did I fall so low?  Probably because the only image I held in my head was of sales through the roof – so when sales weren't through the roof, I started heading into my slump.
Visualization Meets Reality: a better thing to do would have been to hope for sales through the roof, but plan for there to be no sales at all.  This, I feel, is a much more zen-like approach.  Think about it… if there are sales through the roof, I am okay with that, and if there are no sales, I am okay with that too.
Instead, all I thought about was sales through the roof.
Lesson: Don't be so emotionally attached to things happening exactly as you imagined them to.
What to do: Accept whatever happens.  Hope for things to be awesome, but plan for them to not go as planned.  This way, you will be okay with either scenario and you will be able to pick back up, make adjustments, and continue to press forward on your path of growth and awesomeness.
Affirmation: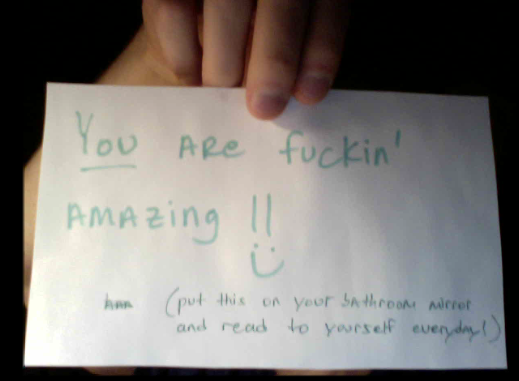 Seriously – put this on your bathroom mirror and read it to yourself often!  Bonus Tip: use dry-erase markers for positive affirmations on bathroom mirrors (see video: You are a Warrior).
As I write this now, I am getting things done!  Last night I caught up on emails and did my monthly profit and loss statement (which I had previously procrastinated on), I filed an extension for my taxes, and I had some time to reflect on what had gotten me down and depressed.
Today was great!  The weather was about 80 degrees and the sun was shining :)  I worked this morning from 10am-4pm, drove home with the windows down and some great music, laid out in the sun, and then I walked barefoot and sang along with my favorite music.
The next time you find yourself in a slump, please refer back to this post.  Or watch the warrior video.
I hope this is helpful :-)
How do you get out of slumps?