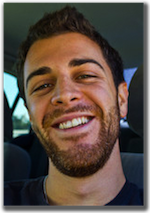 Hi, my name is Matt Horwitz and I'm most passionate about learning, teaching, and growing.
I love personal development, adventure, world travel, entrepreneurship, and self-directed education.
This site is part blog and part a testing ground for new ideas.
I write articles and produce videos on all aspects of personal success, as well as document my journey of living life with purpose and abundance.
If you're interested in receiving my blog updates, enter your name and email address, and then click the "Hey Matt, I'm In" button below.